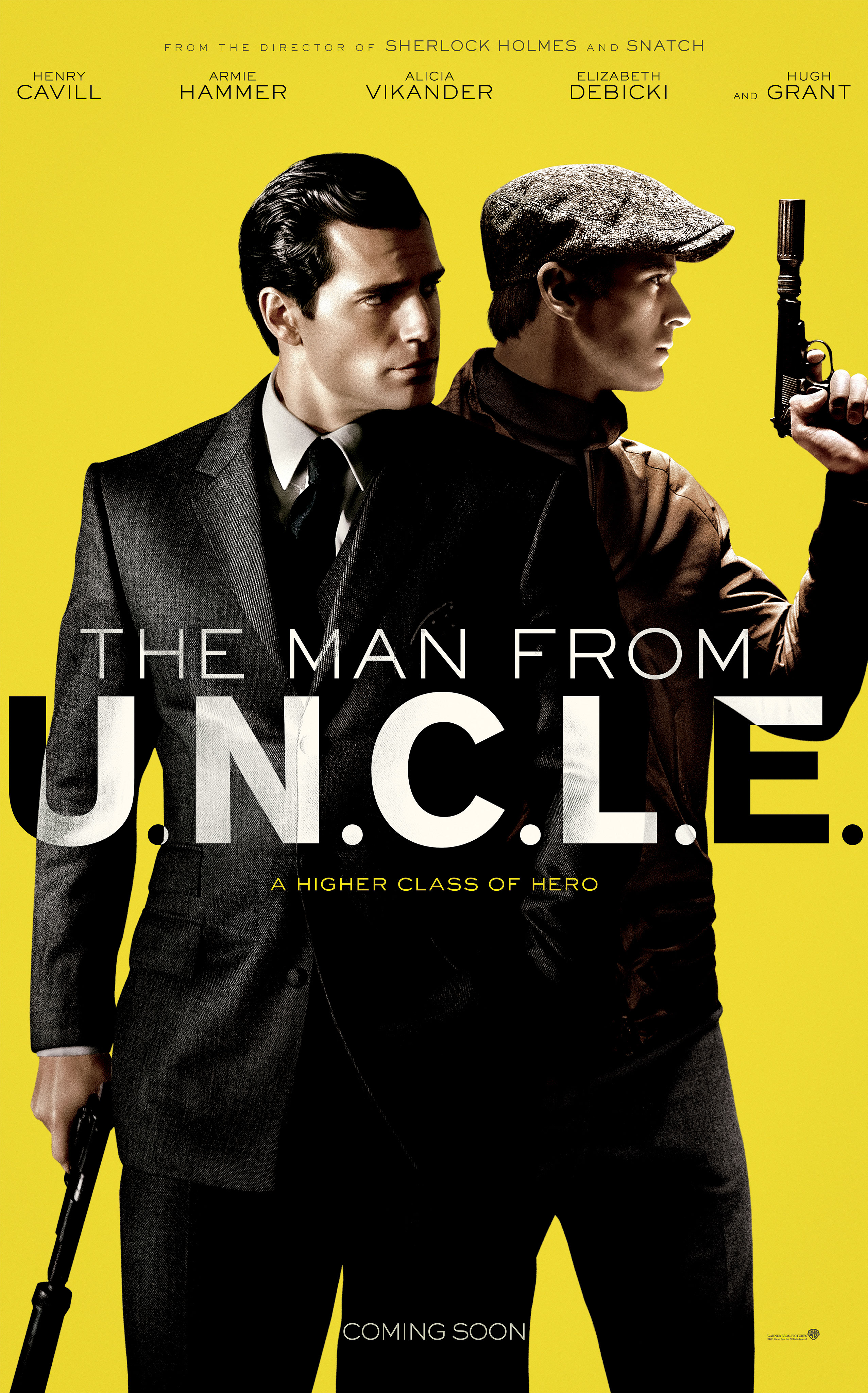 Starring: Henry Cavill, Armie Hammer, Alicia Vikander, Elizabeth Debicki, Luca Calvni, Sylvester Groth and Hugh Grant
Running Time: 1 Hour and 56 Minutes
This is a perfect throwback to the 1960's, complete with everything being spot-on for that generation. The clothing and fashions were absolutely impeccable. This is a movie made up of absolutely beautiful people! It is loosely based on the original TV series that ran from 1964-1968.
This new movie also uses the two secret agents from the United States and Russia who work for U.N.C.L.E., the acronym for: United Network Command for Law and Enforcement.
Napoleon Solo (Henry Cavill) a professional art thief turned CIA Agent and KGB Agent Illya Kuyakin (Armie Hammer) are trying to stop the neo-nazis from acquiring an atomic bomb. Plus, they both get intertwined with the gorgeous Gaby (Alicia Vikander) who can fix any car and double as a drop-dead fashion model, I didn't quite understand her relationship with agents Solo and Kuyakin. She was paired up with the Russian, but he really didn't seem that interested in her? She also just happens to be the daughter of a long-lost German nuclear physicist. He is her father whom she had not seen for many years. Also, a fun character was Victoria (Elizabeth Debicki), a ruthless soul who plays the part perfectly. She so reminded me of the "Twiggy" era! The story was a little weak and confusing, but I still enjoyed it. I loved the European scenery and the 60's culture, fashion and make-up, it was a true blast from the past! A fun popcorn movie.
This is definitely not your "007" or "Mission Impossible" caliber, but it is worth seeing just because it is polished with a lot of eye candy and just plain fun.
Parents be advised: "The Man From U.N.C.L.E." is rated PG-13, there is no real objectionable material, some profanity, a little partial nudity and some violence, but I think children ages ten and over will be fine with this movie.
I am giving "The Man From U.N.C.L.E." three bags of popcorn.